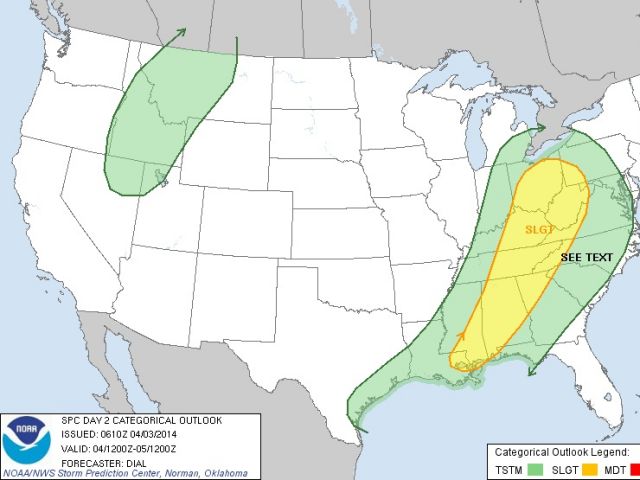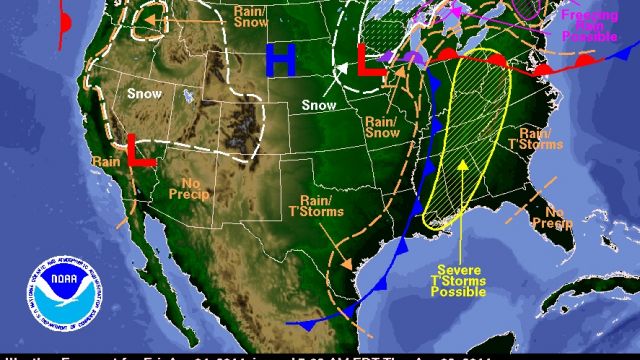 GREENVILLE, SC (FOX Carolina) -
A low pressure system located in the Mid-West and tracking towards the great lakes has generated a cold front that has already produced a moderate risk of severe weather for the central United States.
The same front will be approaching the Carolinas Friday morning into Mid-afternoon and bring a possibility of thunderstorms along with it. This front will aggressively put an end to the stretch of 80 degree weather we have been enjoying for the past few days as well as pose a threat of severe weather.
The Storm prediction Center has put out a convective outlook for Friday that includes parts of northeast Georgia, western North Carolina and the far western tip of the Upstate. As the front approaches we can expect to see rain and thunderstorms develop. If storms were to become severe the main threat to look out for would be damaging winds and hail.
As of right now, cloud cover may limit any significant heating early in the day. This my help to "buffer" the opportunity for storms to form across the Carolinas. I also anticipate the Appalachian Mountains to work in our favor when holding back any significant storms for Friday.
Many storms may develop well off to our west, however, and may generate enough strength to break into the Carolinas and northeast Georgia before finally dying out. These would be the storms to watch closely on the radar throughout the day. Though I do not expect any storm to develop in the Carolinas, we can still see an already developed storm breach our DMA.
Be sure to be very "Weather Aware" tomorrow throughout the day as we see the slight chance for severe weather for parts of our area.